Shubman – the straightforward meaning of the word is – one with a clean/auspicious mind.
On Friday, a young man with that name showed the world just how uncluttered his mind really is when he is wielding a cricket bat.
You would have to be completely emotionless not to sit back and say 'wow', every time Shubman Gill shows us a different facet of his batting mastery. And to think that he is all of 23. Not too many athletes around the world have the ability to almost continuously evolve, becoming better and better with almost every match. Gill has that unique ability. And he plays a sport which has as many as three different formats. And he is now a first choice pick in all three for India. From the drives to the cuts, from the pulls to the unorthodox swats – Shubman has that extra nano second that the greats have displayed over the years. His sense of timing and placement, strong backfoot play, effective bottom-hand use and awareness of fielder positions is also praiseworthy. 01:50
Gujarat Titans beat Mumbai Indians to reach IPL final
You could see recognition and acceptance of that fact on Hardik Pandya's face when the big screen at the Ahmedabad stadium showed a highlights reel of Gill's best shots in GT's qualifier 2 clash vs MI on Friday. There was a smile on Hardik's face accompanied by a slow shake of the head. The emotion was unmistakable. It was a cocktail of appreciation and astonishment. It's the same for every cricket fan, expert and cricketer when they watch the 23 year old Gill play these days. He just seems to be able to up the ante in an almost casual, nonchalant way that is typically him.
Chewing gum, calm and composed, Shubman's exterior is built for pressure situations. But his biggest strength is his batting technique, the foundation of which was laid on the manjis (charpoys/light bedsteads) that his father and first coach, Lakhwinder Singh used to throw balls on, as it skidded off the surface at a fast pace for Shubman to tackle. Lakhwinder, who wanted to be a professional cricketer himself, would make Shubman face 500-700 deliveries every day and also make his son practice batting with a single stump acting as a bat.
1/15
IPL 2023: Shubman Gill ton helps Gujarat Titans beat Mumbai Indians to reach final
That Shubman would want to take up cricket was evident from an early age, when he would play only with a cricket bat and ball, even before going to bed. Lakhwinder who noticed the early signs of talent in his son moved his family from Chak Khere Wala village in the Fazilka district to Mohali, where there were better cricketing facilities.
Shubman of course has come a long way since then, but what makes his evolution truly remarkable is the short time in which he has established himself as a true batting force. He has managed to marry text-book technique with a new age swagger by depending entirely on his solid foundation and clarity of mind.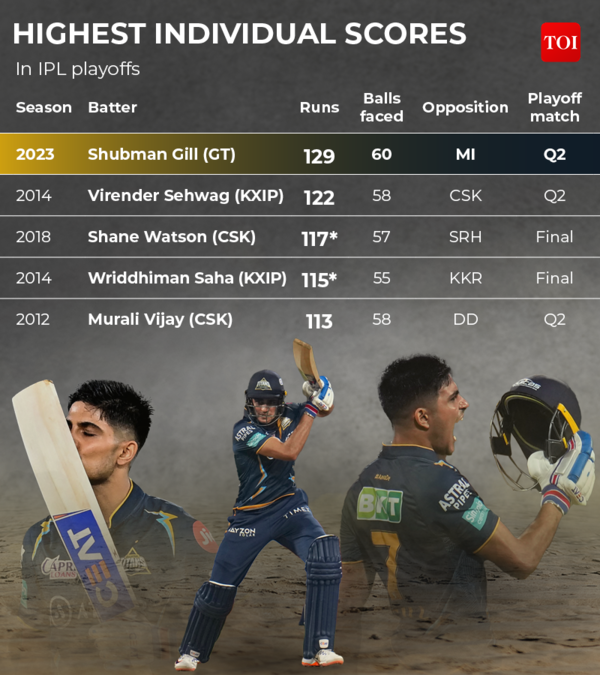 "The clarity (that) he has this year, the confidence that he is carrying is amazing. The innings which I saw (129 off 60 vs MI in Q2) is one of the finest innings I have seen in a T20 game. At no point did he look rushed. At no point did he look like he was not in control." – That was GT skipper Hardik Pandya's assessment of Shubman's knock that helped the defending champions enter the final of IPL 2023 and set-up yet another clash against MS Dhoni's CSK in the summit clash.
He began as a shy young man and is slowly becoming more and more confident in his public interactions. The chocolate boy good looks of the tall and strapping lad coupled with his prolific run, especially this year, has also turned Shubman into an advertiser's delight.
Fans like to have role models to look up to. And they sometimes rush to pick an heir apparent. Though the inevitable comparisons have begun, it's way too early to compare Shubman to someone like Sachin Tendulkar or Virat Kohli. We can of course admire and praise what he has managed to accomplish so far.
Just 5 years ago, Shubman was playing in the India u-19 World Cup team, which won the ICC title in 2018. He was vice captain to Prithvi Shaw, finished the tournament as the second highest run-getter, with 372 runs in 5 innings and was Player of the Tournament.
Cut to earlier this month when he became the first to score a Test, ODI, T20I and IPL century in the same calendar year and you will realise just how far this youngster has travelled in a very short period of time. He already has 3 IPL centuries this season and is one short of tying the all-time record of most tons in one season, which stands at 4 – jointly held by Virat Kohli and Jos Buttler.
'Keep it simple' – that is a mantra many coaches around the world like to instill in their wards. But the irony is that it's really difficult to keep things simple in a match situation. The best of the best have, over the decades and centuries, perfected that mindset. And again, it's Shubman's no frills, solid technique that helps him do that. The stillness of his head, the steady bat-lift, the quick feet movement and endless confidence in his ability to face any bowler, any kind of delivery. The ability to engineer a shot that is not text-book, but is possible because he is a strong text-book student of the game. Like the six he hit off Cameron Green in Q2, when he was cramped for room by a short-pitched delivery, but almost nonchalantly played a slap-shot with the bat held almost like a tennis player would hold a racquet for a double armed forehand.
Earlier this year he entered the elite ODI double century club (only 8 cricketers have scored a double century in ODI cricket so far – Sachin Tendulkar, Virender Sehwag, Rohit Sharma, Chris Gayle, Martin Guptill, Fakhar Zaman, Ishan Kishan and Shubman Gill). He scored a breathtaking 208 off 149 balls against the Kiwis in the Hyderabad ODI, which India won by 12 runs. Shubman of course was Man of the Match and became the youngest ODI double centurion.
In February this year, Shubman scored his maiden T20I century – 126* off 63 balls vs NZ on the same ground at which he blew away the MI bowlers, after a reprieve when he was batting on 30. And that score made him the highest Indian individual scorer in a T20I match. He sits in 8th place on the all-team list.
Regardless of what happens in the IPL final on Sunday, Shubman will have to put either the euphoria or the heartbreak behind him and change gears again to Test mode for the WTC Final against Australia, which starts on June 7. Gill will be opening the innings for India and at the other end will be his India captain and the skipper of the team Gill helped GT knock out of IPL 2023 on Friday – Rohit Sharma.
But then Shubman has already shown just how well he can hop between formats and make his bat talk, regardless of the number of overs in the match or the colour of the ball.
"From the last West Indies tour, I think I have shifted gears. I got injured before the last IPL, but I have been working on my game. I worked on a few areas and made technical changes ahead of the NZ series, after the T20 World Cup," said Shubman after his blitzkrieg of a knock on Friday against MI.
Good players make headlines. Great ones make statements.
There's no crystal ball that can tell us if this 23 year old does indeed go on to become one of the all-time greats.
But does Gill fit the bill? You bet he does.