Neeraj Chopra, Eldhose Paul, Diamond League 2023 Highlights: Neeraj Chopra claimed a season-opening victory at the Doha Diamond League meet on Friday, but once again fell short of breaching the 90m mark. Chopra's first throw of 88.67m was good enough to win him the title as it was never bettered by a stacked field on a night with challenging conditions in Doha.
Finishing behind the Indian were Tokyo 2020 silver medallist Jakub Vadlejch (whose best attempt of 88.63m was just four centimeters behind Chopra) and world champion Anderson Peters, whose best attempt was a throw of 85.88m.
Commonwealth Games triple jump champion Eldhose Paul made his Diamond League debut on Friday but could only finish 10th in the 11-man field with a best effort of 15.84m.
The 2023 Diamond League comprises 13 meetings, starting with the Doha event leading up to the two-day Diamond League Final in Eugene on September 16-17th. Scroll down for live updates:
"It was a very hard win, but I'm happy, It's a really good start for me. I hope to come in the first place in the next compettions and to keep consistent during this season. I feel really good, today was challenging for all athletes, but I'm still satisfied with my result. It was a good start and it's a great atmosphere," Neeraj Chopra said in the mixed zone.
"Lot of people came to support me and they are really happy. For this season I plan to stay fit and do more than I can. Sometimes it's really hard because we have have big country and people hope for me, and now more athletes of people from my country join me in the Diamond League and other competitions, I'm lucky people have faith in me, I feel really good. This Doha meeting is great, the first one every year. Today was challenging, next time I'll do more throws . This season I'll stay fit consistent and I'll try do my best in next competitions."
Huge start for #NeerajChopra, who hits 88.67m with his first throw at the #DohaDL. It's a WORLD LEAD! ⚡ #DiamondLeague #CraftingVictories 🇮🇳 pic.twitter.com/dwIgXbuDQk
You can read our report of the men's javelin throw event at the Doha Diamond League here:
Neeraj Chopra starts season with victory as wait for 90m throw continues
جانب من مشاركة الهندي #نيراج_شوبرا .. البطل الأولمبي وحامل ذهبية أولمبياد #طوكيو2020 في منافسات رمي الرمح ضمن فاعليات جولة شاطيء البحر للدوري الماسي 👌🔝✔️@SeashoreQRT #الاتحاد_القطري_لألعاب_القوى | #India pic.twitter.com/FZDhhVC8V6
Neeraj Chopra's sixth attempt lands at 86.52m. Vadjejch meanwhile can only manage 84.76m. Anderson Peters throws 81.93m with his 6th.
Neeraj Chopra
's fifth attempt lands at 84.37m. Vadjejch's fifth is a 88.47m attempt. Anderson Peters can only manage 82.22m.
The Indian still leads the charts. He has one more attempt left on the night.
Two more throws left for the Olympic Champion.
Neeraj's 88.67 is still the leading throw as the third round is in progress. The attempt also puts him atop the season leaders' list
Just FOUR CENTIMETRES between
Neeraj's 88.67m
and Vadlejch 88.63m at the top. As the Czech Republic thrower leapfrogged to second spot over Anderson Peters, the first man to greet him was India's Neeraj Chopra.
Neeraj Chopra (88.67m)
Jakub Vadlejch (88.63m)
Anderson Peters (85.88m)
Neeraj Chopra throws the spear 85.47m with his third attempt. He still leads the charts thanks to his first attempt of 88.67m.
World Champion Anderson Peters can only manage a distance of 83.69m with his third throw.
Neeraj Chopra's second attempt is an 86.04m throw. He still leads the charts ahead of Tokyo Olympics silver medallist Jakub Vadlejch, with a throw of 88.63m, and world champion Anderson Peters, whose best attempt is 85.88m.
World champion Anderson Peters throws 83.68m with his second attempt on the night.

World Champion Anderson Peters starts with a throw of 85.88m. Jakub Vadlejch starts with a throw of 85.51m.
Neeraj Chopra is not that far from his personal best. A great first throw to start the season!
Right, as Eldhose Paul's campaign at the Doha DL ends with a best attempt of 15.84m, we shift our focus to men's javelin throw where Neeraj Chopra is competing.
A coincidence that the top 3 in the men's triple jump event — Pedro Pichardo (17.91m), Andy Diaz Hernandez (17.80m) and Hugues Fabrice Zango (17.78m) — are all starting their season in Doha.
JUST TWO CENTIMETRES SEPERATE DÍAZ HERNÁNDEZ and ZANGO.
So while India's Eldhose Paul is in 10th spot, here are the people on the top in the men's triple jump:
Pedro PICHARDO (17.91m)
Andy DÍAZ HERNÁNDEZ (17.80m)
Hugues Fabrice ZANGO (17.78m)
While Eldhose Paul's campaign in Doha seems to be going off the rails, the Olympic medallists Neeraj Chopra will be in action soon i nthe men's javelin throw event.
India's Eldhose Paul gets his third jump in. It's 14.70m.
Eldhose Paul's second jump is just 13.65m. He's now 10th i nthe 11-man field with Almir dos Santos pulling out.
The Indian leaps to a distance of 15.84m. It's far from his personal best distance of 16.99m and season best of 16.61m.
So far, after five jumpers have had their first attempts Pedro PICHARDO leads with a distance of 17.65m. Andy DÍAZ HERNÁNDEZ is second with 17.08m.
The men's javelin throw event will see Neeraj compete against world champion Anderson Peters; Olympic silver medallist Jakub Vadlejch; European champion Julian Weber (who is also a fourth-place finisher at the Olympics and the world championships);former Olympic champion Keshorn Walcott; and former world champion and 2016 Olympic silver medallist Julius Yego.
At the 2022 Doha Diamond League, five world leading performances, two meeting records, and three area and national records were set. As Neeraj Chopra said at the pre-even press conference, "The most important thing is that Doha is famous for 90m throws and hopefully, tomorrow will be a great result for all."
Besides men's triple jump and men's javelin throw — both events which will see an Indian competing this year — the following events will be held at the Doha Diamond League 2023:
Men:
200m, 400m, 800m, 3000m, 400m Hurdles, High Jump, Discus
Women:
100m, 400m, 1500m, 100m Hurdles, 3000m Steeplechase, Pole Vault
The Doha Grand Prix was first held in 1997 with only men's events included in the programme. Women's disciplines were added the following year. Because of its early season successes and weather, it was the ideal opening competition for the newly-formed Diamond League series. The first ever Diamond League meeting was staged at Qatar Sports Club Stadium on May 14, 2010, a mere two months after Doha hosted the worldwide acclaimed IAAF World Indoor Championships.
Here's a look at the startlist in the men's triple jump event:
Pedro PICHARDO (Personal best: 18.08)
Andy DÍAZ HERNÁNDEZ (Personal best: 17.70)
Hugues Fabrice ZANGO (Personal best: 17.82)
Lázaro MARTÍNEZ (Personal best: 17.50)
Yaming ZHU (Personal best: 17.57, Season best: 16.88)
Almir dos SANTOS (Personal best: 17.53)
Donald SCOTT (Personal best: 17.43, Season best: 16.42)
Emmanuel IHEMEJE (Personal best: 17.29, Season best: 17.29)
Eldhose PAUL (Personal best: 16.99, Season best: 16.61)

Christian TAYLOR (Personal best: 18.21, Season best: 16.89)

Jah-Nhai PERINCHIEF (Personal best: 17.03)
"Doha is famous for 90m throws…"@neeraj_chopra1 is eyeing a new personal best at #DohaDL on Friday.#DiamondLeague pic.twitter.com/8QtNM18RY8
It's a question that has been posed again and again of Neeraj Chopra, who has won every medal there is to win in athletics. Chopra is a man who stands just six centimetres away from breaching the 90m club in men's javelin throw. It's a club so elusive that the present membership is 23 men. The 24th persona best throw in the world belongs to Neeraj Chopra, who has a PB of 89.94m.
Hello and welcome to our live coverage of the Doha Diamond League. Today there will be two Indian athletes in action. First, Eldhose Paul will compete in the men's triple jump event, followed by Neeraj Chopra in the men's javelin throw event.
Ahead of the Doha meet, a confident Neeraj did not shy away from the perennial 90m question. But this is perhaps the first time that he has given a clear indicator that he might go after the golden mark.
"The most important thing is that Doha is famous for 90m throws and hopefully, tomorrow will be a great result for all," said Neeraj at the pre-competitions press meet, hinting that a big throw might be up his sleeve.
Neeraj also talked about competing against the best.
"It always helps to have good competitors. It is my first competition of the season and Yukub has already thrown 88m in Potchefstroom (South Africa) so I think tomorrow will be a great competition," said Neeraj. [Read full story]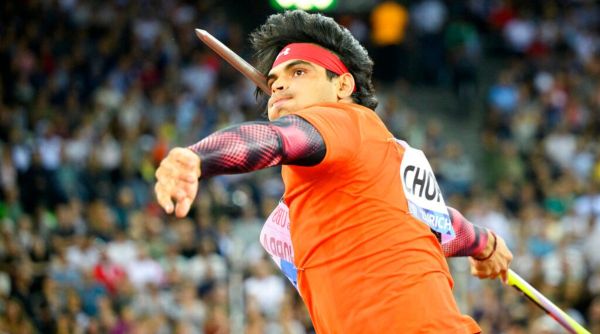 Neeraj Chopra live in action in Qatar. (AP)