Gujarat Titans
' opener
Shubman Gill
and the consistent flow of runs from his bat, including three centuries in the ongoing
Indian Premier League
, has become the talk of the town, especially after his 60-ball 129 on Friday against
Mumbai Indians
, which took title-holders Gujarat into the final, where they will face MS Dhoni's Chennai Super Kings on Sunday.
The innings has be lauded by former cricketers, led by batting legend Sunil Gavaskar, who said the knock will be remembered for the youngster's ability to play textbook cricketing shots in the T20 format.
The 23-year-old Gill now has 851 runs from 16 matches in this season, which includes three centuries.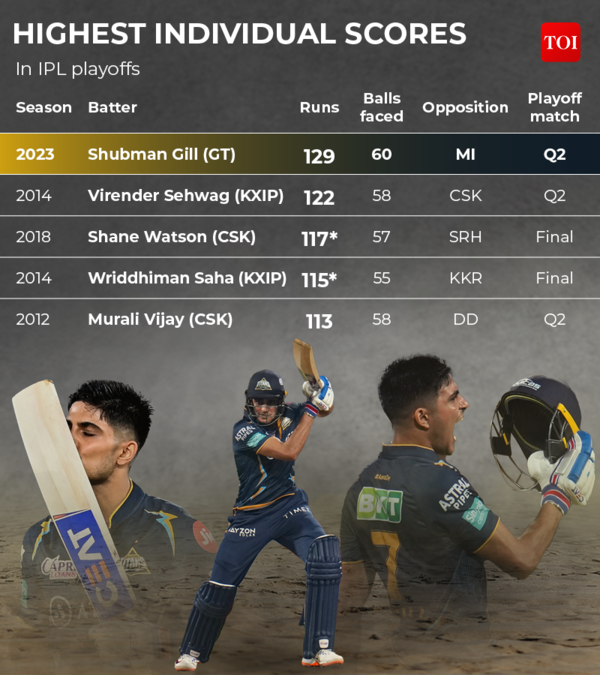 Here's who said what about Gill's match-winning century:
SUNIL GAVASKAR
"This innings of Gill will be remembered for years. In this knock, Gill forced opposition captain Rohit Sharma to change his strategy by targeting MI's main bowlers," Gavaskar said on Star Sports.
"During these matchless (un-matchable) innings, Gill kept his strike rate consistently good and kept his team free from pressure. Along with this, this innings will also be remembered for Gill's ability to play cricketing shots in the T20 format." 01:50
Gujarat Titans beat Mumbai Indians to reach IPL final
HARBHAJAN SINGH
"Shubman Gill's batting proves one thing that if your basics are right, and your thinking is clear, then runs will automatically flow out of your bat. The batting of Virat Kohli and Shubman Gill has proven that you don't need to hit oblique shots to score runs," said Harbhajan.
"These two are representing different generations but their bats have yielded a lot of runs and all this has been possible due to clear thinking and sticking to the basics of cricket."
IRFAN PATHAN
"Years later when you'll look back, you will remember this knock. If you look at the history of IPL qualifier matches, you will hold this knock from Gill in high regard," said the former India pacer.
"It was completely different from what we have witnessed in the knockout stages of TATA IPL. The way Gill groomed this knock and the way he targeted MI's main bowlers is commendable."
SURESH RAINA
"The calmness we saw. In such a big match, body language is very important. The sixes he hit later in the match, ones we call pick-up shots. He hit one off Kartikeya, and after that, he realized that he can come into the line and just hit pick-up shots," said Raina on JioCinema.
"I loved his body language, his self-confidence, self-belief, and he's gotten a habit of playing in big matches. Just look at Virat Kohli, as we saw last year with Jos Buttler. But the performance we saw tonight, whenever we have big games, he will perform as Virat, Rohit, and MS Dhoni have."
The social media was also flooded with praise for Gill, as the greats of the game congratulated the youngsters.
(With agency inputs)