To say that
MS Dhoni
is synonymous with the
Chennai Super Kings
would be an understatement. The man is synonymous not just with the yellow brigade, but the
IPL
overall. And it all began right at the very beginning.
In the very first IPL auction of 2008, the 2007 T20 World Cup winning captain made headlines by becoming the most expensive buy at just over Rs 6 Crore. From 2008 to 2023, along with the salary he earns from CSK, his contributions with both bat and gloves, his stature in the team and the league, his image, brand value and the respect he commands have grown exponentially. And rightly so.
The sight of someone of the stature of Sunil Gavaskar running to get Mahi's autograph on his shirt spoke volumes of just how highly MSD is regarded – by his juniors, peers and seniors. The fact that fans in stadiums across the country chant 'Dhoni, Dhoni' more than their own team's name is proof enough that if there is any Indian cricketer who has managed to capture the imagination and win the hearts of fans, just like Sachin Tendulkar did, it's
MS Dhoni
. And he has managed to do that in his own very trademark unassuming style.
As Hardik Pandya recently said – "You need to be a proper devil to hate MS Dhoni."
Talk of this season being Dhoni's last IPL rodeo has been doing the rounds for a while now. The question is- will it actually be his swan song?
The fact of the matter is Dhoni is more than just a captain and player in the CSK set-up. Imagine any other player who is not really being able to bat higher up the order or run as fast as he once could between the wickets and yet being part of the playing XI. It's not because the fans want to see him on the field. It's because CSK is not really CSK without Dhoni in their ranks. It won't be that way forever, but the franchise and the captain himself know just what his presence on the field brings to the table and how valuable that is.
The fact of the matter also is that Dhoni is 41. He turns 42 in just over a month's time (July 7, 2023). The mind is perhaps as sharp as ever, but the body is not.
We were told earlier this season that Dhoni has been nursing a knee niggle. Despite that he has continued to play on, choosing to come lower down the batting order, so that he doesn't need to face the spinners against whom he might have to stretch his legs to play shots. He has chosen to bat in the death overs, trying to tonk the ball right from the word go. In most matches, there have been hardly any balls left to face by the time he has walked in. He has batted in 11 innings this season, scoring 104 runs. The strike rate though has been 186. So far this season he has faced just 56 deliveries.
When Dhoni and the CSK team did a lap of honour at the Chepauk recently he had an ice pack strapped on to his left knee. Running between the wickets hasn't been easy for him. He knows that continuing to play at full tilt is not going to be easy. And there's no sportsperson worth his or her salt who would want to continue playing endlessly knowing that they can't give it their 100%. And yet, Dhoni himself hasn't decided whether this will be his last IPL season. Or at least that's what the statements seem to suggest.
After Qualifier 1, in which CSK beat defending champions GT to enter their 10th IPL final, Dhoni was asked about his CSK future and he replied saying – "I don't know. Why take that headache now? I have ample time to decide. The auction (mini auction) is in December."
So should Dhoni continue to keep the reins of CSK in his hands, for at least one more season? Yes, he should. And that's not an emotional answer.
Change is inevitable. It is, as the Greek philosopher Heraclitus said – the only constant. CSK are bound to have a new captain some day, MS Dhoni will retire from the league, just as he did from international cricket and life will go on. But what the tacticians behind the scenes, including Dhoni need to decide is – does the team need him to be around to pass the baton to the new skipper, while teaching the new captain the finer nuances of captaining one of the most successful franchises in T20 cricket – the way only Dhoni can?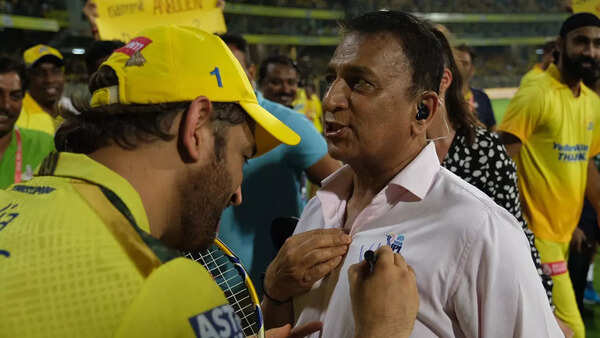 (Sunil Gavaskar taking MS Dhoni's autograph on his shirt – Photo: CSK Twitter)
The transition was well and truly in place last season itself when Dhoni decided to step down as CSK skipper and hand the captain's armband over to Ravindra Jadeja. The thought process behind that decision was absolutely right. Dhoni would stay on as a player (presumably for one season) while guiding the new skipper as he found his feet. There are of course many in the CSK camp, including Jadeja, who have seen Dhoni operate from close quarters. But to see is one thing, to emulate is another entirely.
The Jadeja experiment didn't work. His own form with the bat dipped and inexplicably he was even seen dropping catches! Cut to Jadeja handing the baton right back to Dhoni, who assumed charge once again after just 8 matches. Reports of Jadeja and the franchise not being on the best of terms, the all-rounder not being in touch with CSK at all after the 2022 season and wanting out continued to make headlines and so did reports of Dhoni playing mediator and sorting out all differences, which saw Jadeja don the CSK yellow again. The 4 time champions had a torrid season last year, finishing 9th out of 10 teams, just a season after they had won their 4th title.
MS Dhoni's CSK: Why Chennai Super Kings Are The Most Consistent Team In IPL History
All that is of course water under the bridge now, but what one must remember though is that the process that was picked was the right one, even if the outcome wasn't what Dhoni and the franchise expected. Pick the future leader, be around for at least a season to monitor his progress before bringing the curtain down.
And so the questions remain – have Dhoni and Stephen Fleming had a chat about whether they need to stick to the same transition strategy or change it? Is Jadeja being considered again or someone younger?
It's no secret that the DNA of CSK has Dhoni firmly embedded in it. From the seniors to the juniors, everyone knows what the captain is like and what he wants. Like Dhoni's standing instruction to all fielders to keep their eyes on him because he likes to change the field often or the team mantra – cut out mistakes and the chances of winning go up or the standing philosophy – all players will be given specific roles and backed to the hilt, that there will be minimal chopping and changing.
GT vs CSK 2023 Highlights: Chennai Super Kings Defeat Gujarat Titans by 15 Runs to Qualify for FINAL
Whenever the change in leadership happens it will usher in a new era of course, but what the team would really want is for things to change as little as possible. Not just because this is a franchise which has historically never been in favour of too many changes, but also because if substantial remnants of the old legacy stay on, it's easier for everyone to continue doing what they do best. And for that to happen, Dhoni needs to be around to oversee things. He is after all not like most other IPL team captains. Amongst the older teams, maybe only Mumbai Indians and Rohit Sharma come close to the symbiosis that exists between Dhoni and CSK.
No new CSK captain was announced before the current season. There has of course been talk that Ruturaj Gaikwad is being considered as a long term prospect, but that's all that it is so far – speculation.
As things stand, CSK are in their 10th IPL final. Dhoni and co. are one win away from winning a record equalling 5th IPL title. For many that would be the best farewell possible.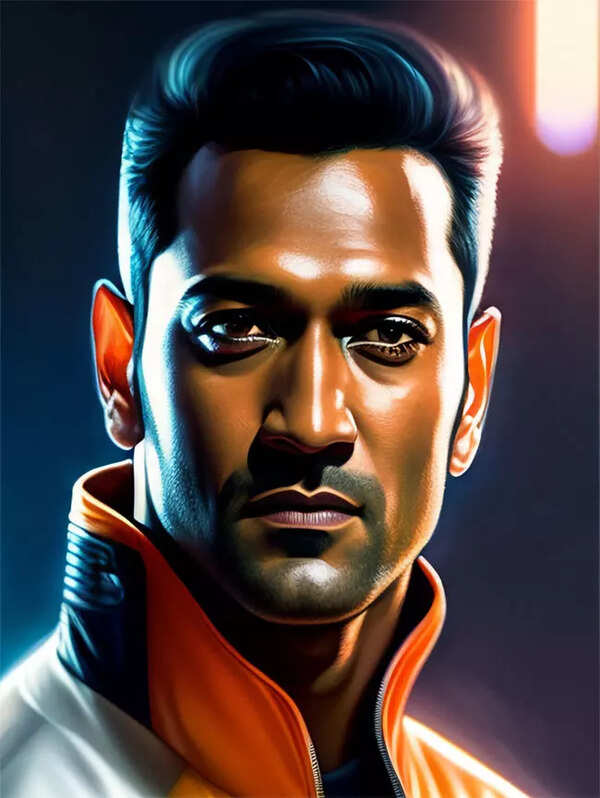 (AI image)
But for the sake of the franchise and the league, it would perhaps be best if the team announces a new captain ahead of IPL 2024 and Dhoni stays on as a player to oversee a smooth transition before finally riding off into the sunset. And going by Dhoni's own words, maybe that's what he is thinking too – 'There's ample time, Why take that headache now?'